Whether it's the wind rushing through your hair or the rush you get from the drop, everyone loves the feeling of going down a slide. That's just one of many reasons an inflatable slide is such a fun addition to your family party, school carnival, large event or even church festival. Bouncing Buddies has Lafayette's largest selection of inflatable slide rentals and you can choose just the right color, size or theme to fit your event. We do recommend that you check the setup area in the slide description to make sure you have room; these guys are big and exciting! Browse the inflatable slide rentals below and click on the title or image for more information and to make a reservation.
Inflatable Dry Slide Rental
This attention-getting colorful 18' High Big Double Dry Slide is sure to be the center of attention at any type of event. With dual lanes, you can have twice the fun! The 18 Big Double Slide is a perfect ride for large crowds and competitive spirits looking to race up and down the slide. Its "no jump" safety meshes at the top and high inflatable side walls ensure that riders enjoy the slide safely.
18' Double Lane Dry Slide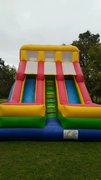 Themed Dry Slide
Lorem ipsum dolor sit amet, consectetur adipiscing elit. Phasellus interdum odio nibh, at dignissim lorem tincidunt id. Fusce et porta arcu, sit amet venenatis mi. Donec rutrum molestie laoreet. Suspendisse hendrerit tellus ac nisl volutpat consectetur. Cras in feugiat erat. Cum sociis natoque penatibus et magnis dis parturient montes, nascetur ridiculus mus. Proin mattis neque in mauris tristique, et lobortis urna congue. Morbi pulvinar nulla nibh, sodales convallis tellus porta quis. Nunc vehicula, massa sit amet placerat condimentum, ex orci sagittis leo, nec vestibulum odio lectus ut sem. Vivamus sed scelerisque magna, eget mollis velit. Pellentesque ultricies mauris ut lacinia facilisi
Themed Dry Slide Rentals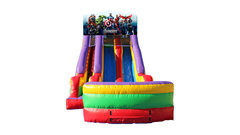 22' Vertical Rush Dry Slide
Lorem ipsum dolor sit amet, consectetur adipiscing elit. Phasellus interdum odio nibh, at dignissim lorem tincidunt id. Fusce et porta arcu, sit amet venenatis mi. Donec rutrum molestie laoreet. Suspendisse hendrerit tellus ac nisl volutpat consectetur. Cras in feugiat erat. Cum sociis natoque penatibus et magnis dis parturient montes, nascetur ridiculus mus. Proin mattis neque in mauris tristique, et lobortis urna congue. Morbi pulvinar nulla nibh, sodales convallis tellus porta quis. Nunc vehicula, massa sit amet placerat condimentum, ex orci sagittis leo, nec vestibulum odio lectus ut sem. Vivamus sed scelerisque magna, eget mollis velit. Pellentesque ultricies mauris ut lacinia facilisi
Vertical Rush Slide Rental