Whether it's the wind rushing through your hair or the rush you get from the drop, everyone loves the feeling of going down a slide. That's just one of many reasons an inflatable slide is such a fun addition to your family party, school carnival, large event or even church festival. Bouncing Buddies has Lafayette's largest selection of inflatable slide rentals and you can choose just the right color, size or theme to fit your event. We do recommend that you check the setup area in the slide description to make sure you have room; these guys are big and exciting! Browse the inflatable slide rentals below and click on the title or image for more information and to make a reservation.
Inflatable Dry Slide Rental
This attention-getting colorful 18' High Big Double Dry Slide is sure to be the center of attention at any type of event. With dual lanes, you can have twice the fun! The 18 Big Double Slide is a perfect ride for large crowds and competitive spirits looking to race up and down the slide. Its "no jump" safety meshes at the top and high inflatable side walls ensure that riders enjoy the slide safely.
18' Double Lane Dry Slide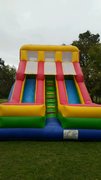 Themed Dry Slide
If you're looking for a BIG slide but want to add a theme to match your party, this 18' double lane slide if the one for you! Our 18' themed dry slide features a spot up top where we can affix one of our hundreds of themes. Users climb up single file on the left side, then slide down side by side in their own lane. The cushioned landing pad at the end of the slide ensures a safe slide down, as well!
Themed Dry Slide Rentals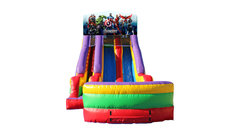 22' Vertical Rush Dry Slide
This interactive inflatable takes competition to the next level! The combination of an obstacle course experience with a super tall slide gives you the best of two worlds! Users enter the inflatable via the crawl-through tubes, then must pass through the vertical obstacles, where finally they'll face the ultimate challenge... the rock wall climb. This rock wall climb is no joke! Users will have a blast racing their way up against each other. After they race their way up the rock wall, they're rewarded with a super fun slide down. Great for middle school and high school kids!
Vertical Rush Slide Rental