While the majority of our rentals occur in residential areas, park deliveries are not uncommon! At Bouncing Buddies, we understand that not everyone has the space or resources to have a fun jump at their home, but still want their guests to have the best time possible. This is often where parks come into play. Parks offer more space, playground equipment, a designated space for partygoers to occupy, and the best part--you eliminate the stress of having people over at your home.

The criteria and requirements for park rentals differ from typical deliveries, however. On this page, we'll detail everything you need to know regarding a fun jump delivery in a park.
While we gladly service parks, Bouncing Buddies does not offer refunds (
rainchecks only
). Because of this, it's very important for patrons looking to rent in a park to have all their ducks in the row before finalizing their order. We'll discuss below the steps involved with setting up in a park.
Once you've decided which park you want to have your party at, you'll want to contact an
official representative for the park to ask about permits, any insurance requirements, and power specifications for fun jump set-ups.
If you
Google
the park name, sometimes you can find a direct phone number for the park's office. Otherwise, if no direct number can be found, turn to the parish Parks and Recreation department for answers. For any park rental, there is an additional fee assessed.
We
do not rent water slides in public parks
. Often, there's no water connection or hose provided for us to hook up to, and the park facilities do not allow water slide set ups because of excess water on the grass. Please be aware of this if you plan to book online, we do have the authority to deny or change your order if you reserve a water slide in a park without explicit permission.
It is up to the patron to ensure that power is available to inflate the jump. If we arrive to set up your inflatable and the designated power supply is too far away from where you would like set up, not powerful enough, or is not turned on, that is no fault of our own, and we do not offer refunds for that. This is why it is so important to communicate with the venue to be sure everything is in working order before your event. In some parks, it is required that you provide your own power, via generator. In those specific parks, we do require a generator to deliver your fun jump, whether it be
through us
, or one provided by you.
Sometimes the desired park is a
neighborhood park
, which is less public and a little more residential. The same rules would apply for a rental in a neighborhood park; you still need to ensure there's power and get clearance to set up in the park (if necessary). Typically, in these instances, the HOA of the neighborhood is who you need to speak with. Again, verify that you don't need to reserve a pavilion in order to have power, inquire about insurance certificates, and be sure you are allowed to set up a fun jump in the park at all.
As mentioned earlier, if you have any concerns about the power not working properly, we do offer
generator rentals
, as well.
Please note:
Our delivery drivers
do not
bring a generator along unless you've ordered one.
Set It Up Yourself and Save!
In addition to delivery, we also have a do-it-yourself option that will save you money! Starting at $69 plus tax, you can pick up an inflatable from our pre-selected assortment and set it up wherever you want! Rental times start at 24 hours. When you elect for a pickup option, we provide you with the inflatable, stakes, and a blower. All you need is a power outlet and an extension cord. Read more about what's involved with our DIY rentals
here
. Below are a few of the pieces that we offer for customer pickup.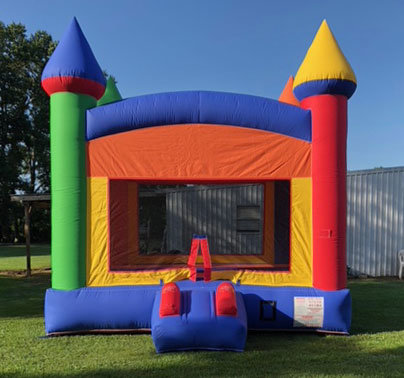 Bounce House Option
13' x 13' Basic Bouncer. Perfect budget option to keep the kids busy!
DIY Bounce House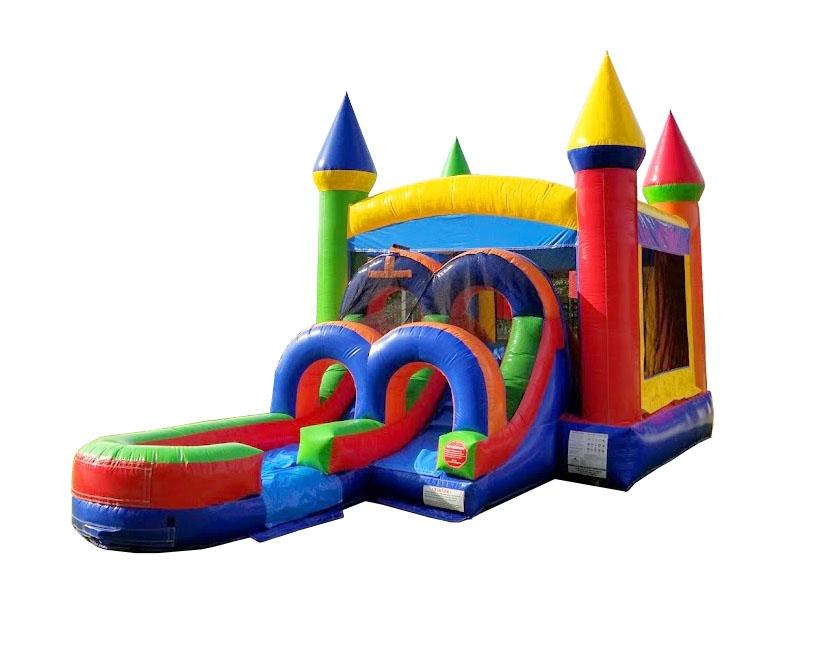 Combo Fun Jump
Also available in
pink and purple
. Ideal for small parties, has attached slide for added fun! Can be used wet or dry.
Kids Rainbow Combo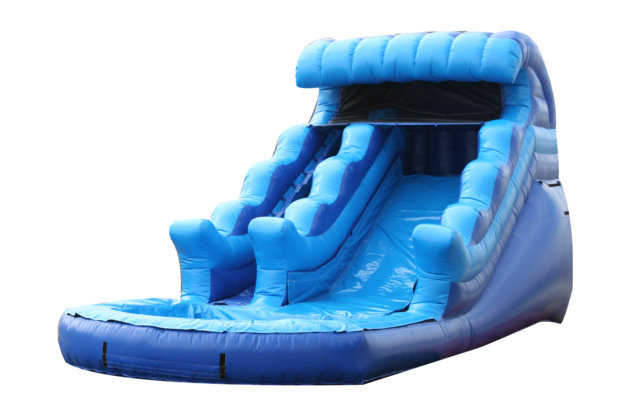 Water Slide
Our 13' Laguna Jr. is one of our smaller water slides, but it does the trick to keep younger kids cool in the summer! Please keep in mind we do not off delivery for water slides in parks, but if you would like to set one up yourself in a park, you are welcome to do so.
13' Laguna Jr.