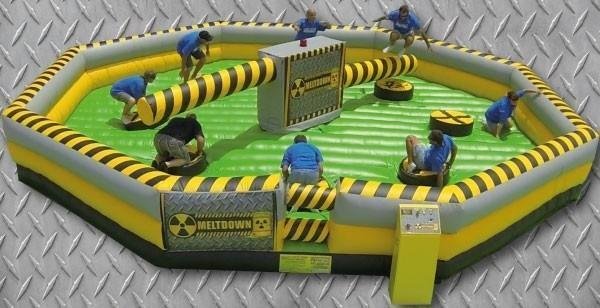 Toxic Meltdown Inflatable Ride
Setup Area: 30' x 30' x 15' headroom
Outlets: 2 110 volt outlets (within 75ft of setup area)





$1,045.00

Please call to reserve this item.

Toxic Meltdown Inflatable Ride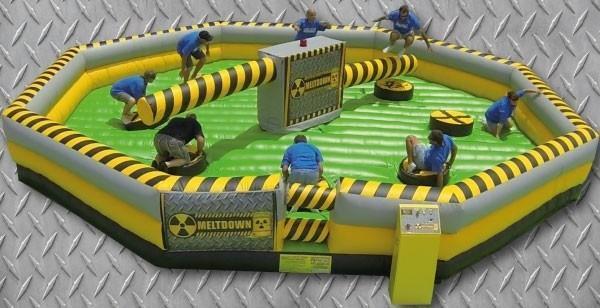 Meltdown Knockdown Game in Lafayette Louisiana. The Meltdown is a highly coveted interactive & physical 8 Player inflatable game which challenges your stamina, agility and reactions. Meltdown Knockdown Game Dimensions Take measurements of your space because the Meltdown Knockdown takes up 30 x 30 & access to electricity nearby is very important. Most inflatable interactives are setup for 2 or 4 player. But the Meltdown Knockdown arena is unique and involves up to 8 players at a time. Ideal for schools where there is often a large group of kids to keep entertained then this is the answer. Either duck or jump over the padded bar that is swinging around in a circle. After 2 minutes the last man standing is declared the winner & the next group is brought in so we keep your party moving Best 8 player action game around Meltdown Knockdown Game Lafayette Louisiana.
**Players must be at least 48 inches tall in order to play.**
The Toxic Meltdown Inflatable Ride will turn your party into an adrenaline-fueled game of skill and balance. Enter a post-toxic meltdown world within the walls of this mechanical inflatable. Your objective: avoid falling onto the toxic spill beneath you in order to outlive your opponents. Eight players duck, dodge, and jump over two spinning arms in a game of survival. It's every man, woman, and child for themself. Challenge your stamina, agility, and reflexes with this Toxic Meltdown Inflatable!

Two robust, swiveling foam arms--one slightly taller than the other to really up the ante--spin around the arena, knocking over anyone that isn't quick enough to avoid them. Don't worry, though, the adrenaline rush that this game will give you brings out ninja-like skills you didn't even know you had. You fall off the pedestal, you lose! Unless you have the guts to climb up and try again, that is. And don't worry about that fall from glory, our 30' wide inflatable octagon is there to cushion the blow. The inflatable arena is safe, guaranteed clean, and comes with a trained Bouncing Buddies attendant to operate the game. Imagine the excitement of the crowd as your eight contestants battle the might of the spinning arms to stay upright and avoid getting knocked off their pedestals. Who will be the last one standing? Could it be you?

This piece is perfect for:
Block parties

School festivals - elementary, middle, high school, and college, too!

Church events

Summer camps

Birthday parties

Youth group activities

Corporate events
The thrill of the Toxic Meltdown Inflatable Ride is second to none, and will entertain every player and guest at your party.