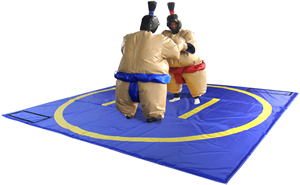 Sumo suits
Looking for a fun and exciting way to liven up your next event or party? Look no further than Sumo Suits from Bouncing Buddies in Lafayette, LA! Our Sumo Suits are the perfect addition to any gathering, whether it's a birthday party, corporate event, or family reunion.
Our Sumo Suits are made from high-quality materials and are designed to be both durable and comfortable. They come in a range of sizes, so whether you're looking for a suit for a child or an adult, we've got you covered.
When you rent Sumo Suits from Bouncing Buddies, you'll get everything you need to get started, including the suits themselves, helmets, and a wrestling mat. We'll even provide you with instructions on how to use the suits safely and effectively.
So why wait? Contact Bouncing Buddies today to rent Sumo Suits for your next event and get ready for a day of fun, laughter, and friendly competition!