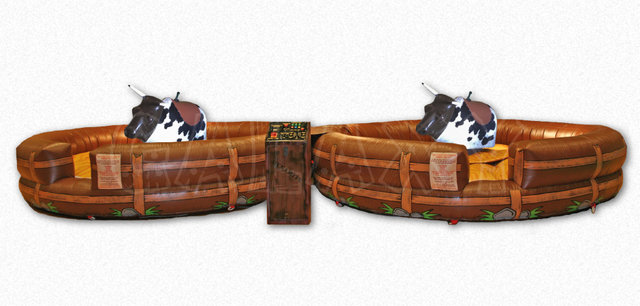 Ride Off Double Mechanical Bull
Setup Area: 20' L x 40' W x 10' headroom
Outlets: 3 110 Volt Outlets (within 75ft of setup area)





$2,495.00

Please call to reserve this item.

Ride Off Double Mechanical Bull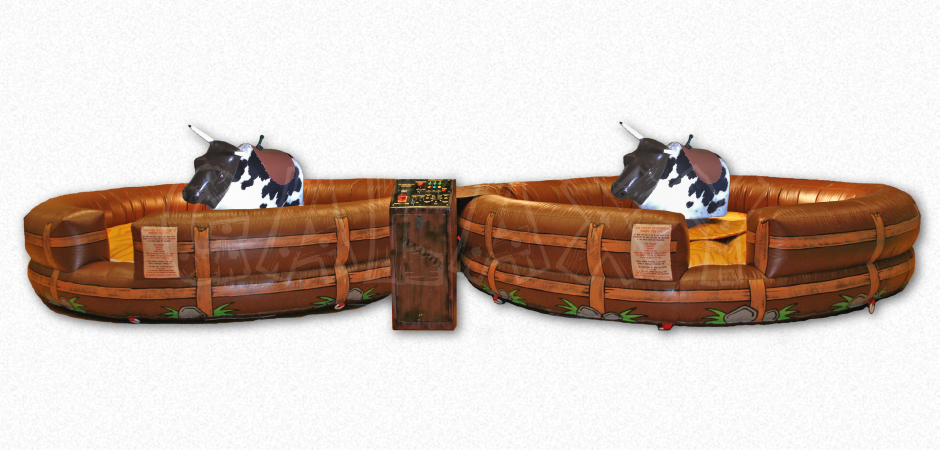 Ride Off Double Mechanical Bull is the ultimate competition mechanical bull! The full Ride Off! It comes complete with two regular bull bodies, Angus and Nitrous Plus two sixteen foot diameter inflatables, which are joined together, and one control console.

The riders start at the same time and the clock starts running. When the first rider falls off their bull, both bulls stop. The winning rider stays on to challenge the next competitor to see how many opponents they can beat.

Although the Ride Off! looks like it has a hard fiberglass head, it is in fact our unique Sofolex Soft Foam Safety head. Safety is paramount, so our Ride-Off Double Mechanical Bull is fitted with our unique Automatic Stop Sensor (ASS). As soon as one rider falls, the bull stops instantly and the other rider is declared a winner, ready to take on the next challenger.

Each one of the automatic Mechanical Bull programs is linked to the two LED digital time clocks giving the current time achieved, so both the operator and the rider can see how long the rider stayed on the bull.

All of the equipment we rent is inspected annually by the State of Louisiana and we use antibacterial disinfectant on all of our equipment before and after every use. Rentals are 4 hours, with a fee of $200.00 each additional hour. Please call to discuss set up and events.

Contact Bouncing Buddies today to learn more about the rentals we provide for events in Lafayette LA, and the surrounding areas.
*no drinking allowed with this ride* Do not ride if you have been drinking!!!