Trackless Train Rentals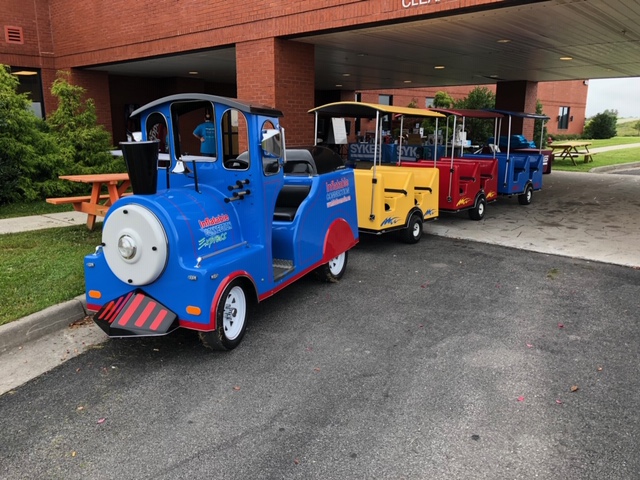 Lafayette's Only Electric Express Trackless Train. Great for indoor or outdoor use. Whisper quiet operation makes this unit ideal for schools, gymnasiums, church events, town events and much, much more.
Rent this train by the hour or by the event

Authentic Train horn to enhance the kids experience

Train Conductor included to operate the train for the duration of your event

Train comes complete with engine and (3) cars having a capacity of 12-18 people (6 children or 4 adults per car)
First 2 hours = $495.00. Each additional hour = $100.00 per hour. Some travel fees may apply. Please call for availability.
Train's Arrival
Our trackless train will arrive at your event in his very own enclosed trailer. From the cow pusher to the caboose, the train is 35 feet long and weighs nearly 3,000 pounds! There is one engine and three passenger wagons. Each train car wagon will hold 5-6 passengers, and the train can transport up to 18 people in one trip. Children under 36" must be accompanied by an adult.


All the Bells & Whistles
Eight 6-volt batteries power the train, and it has zero emissions, so it is environmentally friendly and can run indoors or outside. This isn't your lawn-tractor train! Bouncing Buddies Express runs quietly, unless, of course, you're listening to the music from the speakers in each wagon. Request your own playlist or listen to one of ours. Bouncing Buddies' Express airhorn announces his arrival, and the authentic bell sings a soft ting-ting noise throughout the route.
For evening visits, our train comes equipped with under-carriage lighting on each wagon, lighting inside each wagon, headlights, and strobing LED red and white lights for safety. Plus, we've added DOT reflective tape on our barricades and train cars for added safety and visibility at night.

Space Requirements
Bouncing Buddies Express likes a lot of space--the more, the merrier–-and requires a 18-foot radius to turn around.
We need 9-foot wide areas to avoid hitting walls, barricades, or pedestrian traffic.

Outdoor areas: level parking lots are best where we can block off motor vehicle traffic.

The trackless train can operate on any flat surface, asphalt, paved surfaces, grass, ect. The train can operate on most residential streets, parks and schools.

Most Trackless Trains cannot operate on large hills. Trackless Trains are recommended for Level Grade Only!

Bouncing Buddies Express does not run on gravel or in the rain, sorry!
"Trackless" Means Endless Paths & Possibilities
If we're running outside, it's nice to give Bouncing Buddies Express plenty of room to run. This allows for circles, squares, and figure eights to make each ride unique and fun. As a minimum, we like around 10 parking spaces — like the ones marked in red or blue on the sample. Of course, if you allow for larger areas, like the one marked in yellow, we'll definitely use the space!
**Remember, we must be able to block off motor vehicle and pedestrian traffic from the path of the trackless train.**
This is to keep everyone safe! We can bring barricades and flags to help mark the area!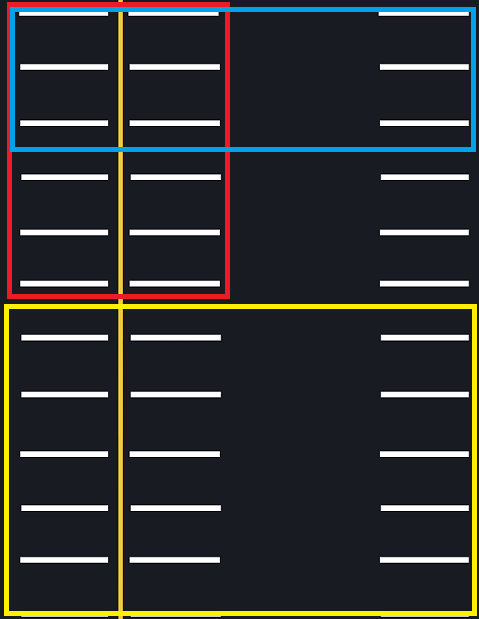 ---