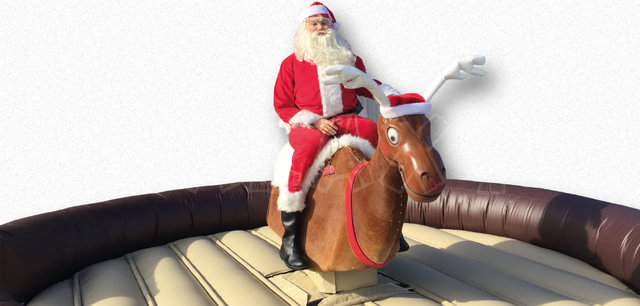 Mechanical Reindeer Ride
Setup Area: 20' x 20' x 10' headroom
Outlets: 2 110 volt outlets (within 75ft of setup area)




Mechanical Reindeer Ride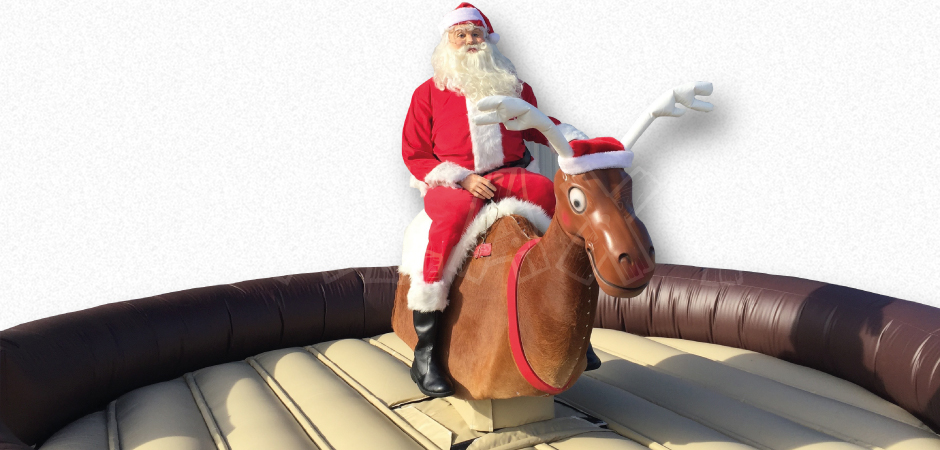 A mechanical reindeer fide can end up being the life of the party at your next event in Louisiana , or any other nearby area. At Bouncing Buddies , we provide a wide array of event rentals and have experience setting up our rentals in a variety of different spaces. So, if you're planning a church or school carnival, a birthday party, a corporate celebration, or any other type of event, we'll be able to provide the event rentals you need. And, as a full-service rental company, we'll take care of the delivery, set up, and take down of the rentals you order, so you can focus on planning the other aspects of your party.
When it comes to a mechanical reindeer ride, safety is our top priority. Every mechanical reindeer is operated by one of our staff members who is safety certified by the Event Planners Association and will oversee the use of the mechanical reindeer throughout the event. This person will have control over the speed and bucking power of the reindeer, and will give each participant a custom ride based on their size, age, health condition, and skill level. The inflatable landing area provides soft landings, and our bulls even have rubber heads to make the ride less dangerous.
How Long Can You Last???
Mechanical Reindeer Ride Rental for events in Lafayette but we also serve Baton Rouge, Lake Charles, New Iberia & Youngsville. Mechanical Reindeer ride rental has a soft bull head and other unique safety features.https://bouncingbuddies.ourers.com/items/mechanical_reindeer_ride/
Our Mechanical Reindeer has 6 preset settings:
1) Easy
2) Medium
3) Fast
4) Greenhorn (competition for beginners)
5) Cowboy (competition for experts)
6) Redneck Games (moves slower than soft)

The mechanical Reindeer Ride has different levels of expertise from beginner to expert & has the capability of starting rides very slowly and speeds can be advanced according to a rider's ability and those that want to make a competition out of it. It can go slowly and simply spinning for beginners and run at greater speed for experts. Our goal is not to throw the rider immediately off and risk injury to them in the process. We will give them a fair start and make sure they have the mechanical reindeer riding basics down before we turn up the fun. A rider that gets knowledge and a fun ride will come back again and again. It is also a terrific spectator item that will add fun and excitement to many different kinds of events.Mechanical Reindeer Ride Dimensions
16ft x 16ft for length & width and 8ft high at the back inflatable section of the mechanical reindoor arena
Safety
Call us for your mechanical reindeer rentals, all waivers and mechanical reindeer rental operators are provided for safe operation & we are fully insured.
Great addition to any corporate, country western theme party, Bar Mitzvah & birthdays. Lafayette, Youngsville, Baton Rouge, New Iberia, Crowley is our service area so Call today get a free quote & availability. We look forward to doing business with you.CALL NOW for more information and while your at it check out our line of inflatables for your party. Water Slides, Dunk Tanks, Bounce Houses, Trackless Trains, Dry Slides Inflatable Games, Rock Climbing Wall, Slushy Machines, Popcorn, Hotdog Cart, Obstacle Course, Giant Games, Laser Tag & moreAll of the equipment we rent is inspected annually by the State of Louisiana and we use antibacterial disinfectant on all of our equipment before and after every use. Rentals are 4 hours,with a fee of 200.00 each addictional hour. Please call to discuss set up and events. Contact Bouncing Buddies today to learn more about the rentals we provide for events in Lafayette LA, and the surrounding areas.
*no drinking allowed with this ride* Do not ride if you have been drinking!!!