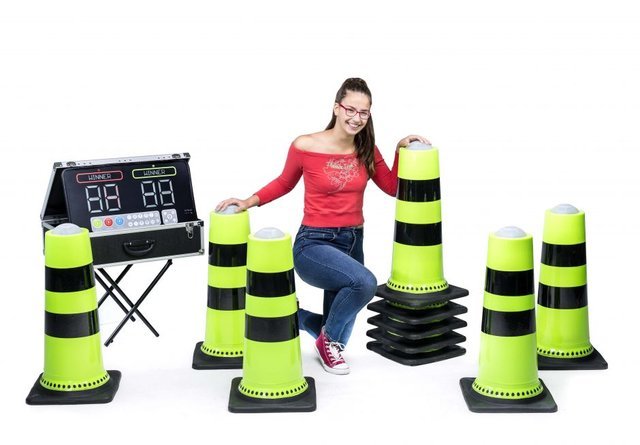 IPS Interactive Cones
IPS Interactive Cones
Bouncing Buddies is proud to present the newest wave in the entertainment industry: interactive play systems (IPS). The purpose of the interactive cone game is to put your speed and agility to the test by touching the top of each cone that lights up, whoever has the highest score wins!
This interactive game can have 2 to 4 players at a time. Each player or team will pick a color (red or green) and work together or against one another to get their lights out first. What makes this game so unique is how it is completely customizable! YOU determine the score of the game, which can be adjusted with the push of a button. You can can set the score to 10, 25, 50 or 100 hits, which means whatever player or team reaches the score you set first, wins! Whether it's a field day, school, church, corporate or private event, this interactive cone game is perfect for agility training or even some friendly competition.
IPS Interactive Cones Specifications:

Features
- Electronic LED cones
- Digital score board
Safety Rules
- Adults should always be supervising the kids when they are playing with the system
- Please limit 2 to 4 kids playing at a time
- No jumping on or throwing the cones
- No jewelry or sharp objects
- No rough play (including wrestling)
- Minimum height is 38 inches
- Do not operate in 15mph winds or more
- Never play with the system when it's raining
Overnights
- Overnight rentals are NOT allowed
Concrete
- Cement set ups are allowed. We cannot set up on rocks or gravel or uneven cement.